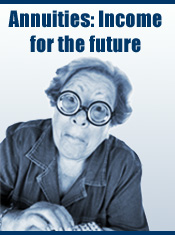 We are general agents for many annuities in almost all 50 states. We:
Assist you in getting trained to sell our products
Supply appointment paperwork and brochures
Supply you with rates and forms
The resources below include:
---
Broker Tools
Online Deferred Annuities
Current Annuity Rates
Single Premium Annuities, Deferred Annuities, Flexible Premium Deferred Annuities, Single Premium Immediate Annuities, CD Annuities. Most available either Qualified or Non-Qualified.
Single Premium Immediate Annuity Quotes
Please call for the latest most competitive quotes from other competitive carriers.
Annuity Purchase Program
Get cash for your unwanted Annuity »
Impaired Risk Immediate Annuities
Illness and Injury Underwriting Guidelines »

Return to top
---
Forms & Applications
---
Annuity Terms Defined
| | |
| --- | --- |
| SPDA | Single Premium Deferred Annuity. You can't add to it. |
| FPDA | Flexible Premium Deferred Annuity. You can add to your account from time to time. |
| IMMEDIATE ANNUITY | You give us the money now. We pay you a Pension, usually for Life, or for as long as either you or your significant other live. Since Annuities come with built in peace of mind Annuitants seem to live forever, and continue to receive income as long as they live. |
| RATED ANNUITY | An Immediate Annuity that pays you a larger pension because you have some medical condition that causes your life expectancy to be shorter than normal. |
| COMPANY RATINGS | A measure of the Carriers ability to meet its obligations. Only important if you are concerned about the carrier's ability to pay – when you want your money. |
| BONUS RATE | A Contractual Guaranteethat the interest rate will drop at the end of the first year. Bonus Rates are great for the Carrier, not so great for the Customer. |
| CD ANNUITY | A CD Annuity is an annuity where the Surrender Charge period does not extend beyond the Guarantee Period. Frequently best for your client. Almost always pays a lower commission because the company is deprived of the opportunity to screw your client. |
| RATE GUARANTEE | Interest Rates may be Guaranteed for as little as One Year, or for Two, Three, Four, Five, Seven Years, even up to 10 years. |
| SURRENDER CHARGES | Ideally the Surrender Charges should not extend beyond the Rate Guarantee. Where they coincide, we refer to this as a CD Annuity. With a CD Annuity, if you don't like the new interest rate being offered, you can take a hike with no penalty. |
---
Learn More About Annuities
---
Annuity Resources
---
Annuities Regulation & Product Updates
Items for Page:
There are no posts that match the selection criteria.