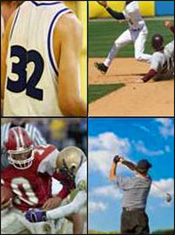 Your client is high up on the stat board, draft board or leader board. Strenuous demand on their bodies requires unique insurance coverage to protect their affluent lifestyle.
Victorson Associates provides coverage to professional and top college athletes to protect potential future earnings or
non-guaranteed contracts.
Contract coverage is also available for teams or sponsors looking to protect their most valuable players.
Coverage includes:
High Limit Disability
Key Person Coverage
Catastrophic Accidental Death
Contractual Indemnification
Failure to Sign Coverage
Interim Life Insurance
Coverage for risks that may void guaranteed contracts
---
Case Study 1
A young baseball player in the last year of his first professional contract was soon to become one of the league's top free agents. If injured in the final year of his current contract, his future multi-million dollar contract stood at risk. Victorson Associates secured a $10,000,000 personal disability policy that would pay him a lump sum payout in the event of a career ending injury.
Case Study 2
A Pro basketball team was looking to protect the guaranteed contract made to a key player. Since the team's obligation to the player was immediate upon signing the contract, interim Life Protection was required. Victorson Associates offered an attractive solution by securing $20,000,000 of Failure to Survive coverage for 90 days while the life underwriting was being completed.
---
May we assist you to better cover your
client's needs for High Limit – High Risk Coverage?
Please contact us with your requirements.
We are here to help you become a hero.