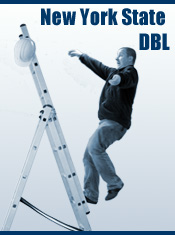 Any employer with one or more employees in the state of New York must provide coverage. This includes employers of one or more domestic employees working in a private home at least 40 hours per week.
Standard Benefits are 50% of wages to a maximum of $170/wk for up to 26 weeks, after 7 days of disability.
Enriched New York DBL Coverage is also available.
Click here to learn more »
We offer some of the the most competitive companies in the state of New York.
DBL insurance can easily be sold by any agent or broker with a health or property and casualty license.
Be sure to ask your commercial accounts about their DBL insurance! If you don't, you're missing out on a great selling opportunity, neglecting to meet your client's needs, and leaving dollars on the table.
---
Broker Tools
Groups of Under 50 Lives
Latest rates
WestCo
Guardian
Standard Security
M
F
M
F
M
F
Annual in Advance
1 – 49
1 – 49
1 – 49
Annual Premium
a
9.80
45.00
23.16
53.88
20.28
44.16
Annual Premium
b
22.20
57.00
Partner or Prop
114.00
68.88
112.32
Quarterly in Advance
10 – 49
10 – 49
10 – 49
Per Month
2.90
6.35
2.60
5.75
1.90
4.20
Partner or Prop
9.50
6.85
9.36
Minimum Quarterly Premium
$20
$15
$16
Prepay Required
No
No
No
National Benefit Life only:
a.  Rates for Bronx, Columbia, Delaware, Dutchess, Greene, Kings, Nassau, New York, Orange, Putnam, Queens, Richmond, Rockland, Suffolk, Sullivan, Ulster and Westchester Counties.
b. Rates for all other counties in New York State.
* Home office: New York, NY
Groups of Under 50 Lives
Groups of 50 or More Lives
New! Enriched New York DBL Coverage
Benefits payable for up to 26 weeks or 52 weeks
Benefits payable at 50% or 60% of covered payroll.
Benefits available to a maximum of $749/week.
Please Click Here for More Details
---
Resources
---
New York State DBL Insurance Regulation & Product Updates
Items for Page:
There are no posts that match the selection criteria.